Located in the heart of the bustling metropolis, Britannica International School, Shanghai delivers the very best of British education to the international community of China's biggest city. To many international families in Shanghai, Britannica epitomises exceptional educational standards, excellent pastoral care, as well as a personalised approach to your child's education, unlike any other school in the city.
Britishness is in our genes. The English National Curriculum, IGCSE, and A-Level courses are similar to what elite private schools in the UK deliver. Our teaching staff, more than 85% of whom are British people with British qualifications, all had at least 2 years of teaching experience in a British or international school before joining Britannica.
We believe one must master the English language, and have a thorough understanding of the culture behind it, to succeed in the 21 Century globalised world. As a genuinely British school, Britannica ensures its students are all fully proficient in the English language and have a comprehensive understanding of subjects through the medium of English. This is why we are consistent in our recruiting and retention schemes to ensure we have the highest portion of qualified British teachers.
We value the importance of the Chinese language and culture, and therefore apart from our pure English learning environment, we provide up to 7 Mandarin classes per week to native-Chinese-speaking students.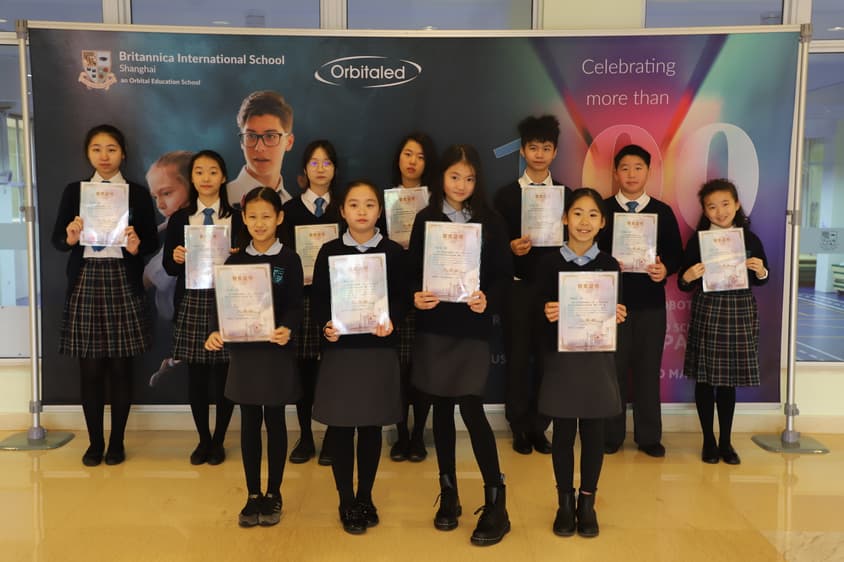 We take pride in the fact that parents regard the personalised education Britannica delivers highly. Our purposely built smaller campus with a maximum capacity of 700 students ensures all students are cherished as an integral part of our community. All our teachers know all our students, and they very much enjoy each other's company. Because of this unique approach, we have full confidence that students of different academic levels can all succeed at Britannica. Our English as an Additional Language programme (EAL), for example, helps students with limited English ability to quickly catch up with the standard courses and fit in the diverse class environment.
A Well-maintained Downtown Campus
Our purpose-built and well-maintained downtown campus is another reason why many international families favour us as their No. 1 choice for the children's schooling. As a centrally located, and intentionally built smaller school, we have all the facilities that suit the needs of any international family. We continuously keep our school clean, bright and deeply air purified.
Vibrant Opportunities To Show Yourself
It is proven that if a student is happy and fulfilled, they will thrive. Encouraging, respecting and nurturing each student's areas of interest outside of the curriculum plays an essential role in their academic development.
At Britannica International School, Shanghai, your child will have the opportunity to explore a wide range of co-curricular activities outside the classroom, from sports through arts, languages and music. There are also a myriad of opportunities for every child to show themselves, to be on stage, and foster closer relations with peers and teachers.
As a rare opportunity, we cordially invite all of you to either arrange a phone conversation or pay a visit to our campus during the summer. Mr Paul Farrell, Principal of Britannica International School, Shanghai, would be happy to personally meet you and your family to answer all the questions you may have.
Our Admissions Office is fully functioning during the summer, and is ready to assist you to the best of their ability.
CLICK HERE OR THE BUTTON BELOW TO REGISTER FOR A BESPOKE TOUR AND MEET OUR PRINCIPAL!