Please briefly describe your journey to become a teacher
As my hometown is in the North of England I studied my degree in History with Education Studies at Manchester Metropolitan University. After completing my undergraduate degree I moved to London where I gained a Post Graduate Certificate with Qualified Teaching Status. After completing my teacher training in London, working with children from many different cultures, I spent two years teaching in an inner city school in London before working for five years in the North of England. I then decided to embark on a new adventure which led me to Shanghai where I have enjoyed living and teaching for four years.
What do you enjoy most about being a teacher?
I feel that being a teacher is an absolute privilege and an extremely rewarding job. Every day is different and watching the children as they gain new skills whilst building self-esteem is truly a wonderful thing to see. There is a lot of 'behind the scenes' planning that goes into creating every lesson, ensuring each child's needs are individually catered for and it gives a great sense of purpose to know that you can really make a difference to the educational journey of the children that you teach.
How does Britannica Nurture its Students?
Whilst at Britannica I have been fortunate to teach across, EYFS, Key Stage 1 and Key Stage 2 and I have seen first-hand how our school's mission, to collaborate, be inclusive, empowering and inspiring, is instilled in every area of the curriculum and into the well-being of each child. We endeavour to bring out the strengths of each child and to enable them to achieve their full potential. We work to make sure that all children can relate to their learning and make learning as 'real-life' as possible using a range of creative approaches. As teachers, we too are constantly learning and sharing best practice with our peers to ensure that we are developing new approaches to learning that enhances the learning of our children.
At Britannica pupils are given a safe and encouraging environment where they are encouraged to take risks in their own learning and have an understanding of their role as a Global Citizen. Our After School Activities programme is specially catered to meet the needs and interests of our children. I personally have enjoyed working with children in our Green Club within different phases of our school, previously the children were involved with the planning process and in making their own Eco School Garden, and we were delighted to win an award for 'Most Surprising Garden.' The children, of all ages, amazed me with their enthusiasm when considering how they can be part of improving our world.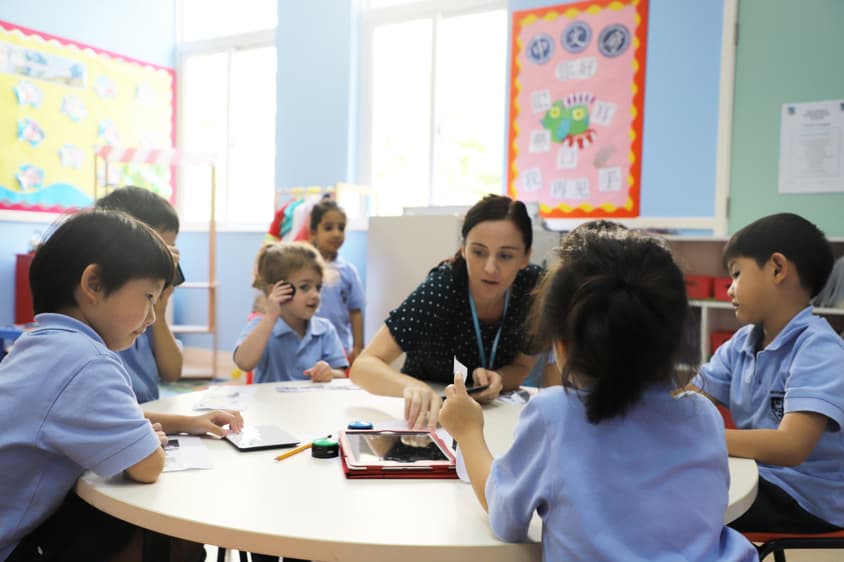 Why English?
Although I place high value and enjoy teaching each area of the curriculum, my real passion lies in English. I am currently the Cross Phase Coordinator of English at Britannica and this is a role that I have enjoyed undertaking this year. My interest in this area was deepened in my previous school where I worked on using the Pie Corbett's notion of actions to tell stories as a vehicle for language development, and in improving reading and writing. Since moving to Shanghai I have been working towards completing my Masters in Inclusionary Practice which has a specific focus on supporting children with English as an Additional Language; specifically on oracy within the classroom. Throughout my time at Britannica I have relished at the opportunities to use strategies that I have researched within my classroom practice, I also believe that my experience within EYFS and both Primary Key Stages allows me the knowledge to work alongside my colleagues as we strive to bring out the best of each child at Britannica. Moreover, we see English not just as a stand-alone subject but one that is embedded within all areas of the curriculum and is a life-long skill.
How can you support your child with English?
For children who are learning English as a new language the key is 'exposure,' for children new to learning English allow children to practice their spoken English as much as possible, be a role-model. Let the children hear you speak the language and develop understanding of the language structure, look at books, talking, simply at first, about what the children can see. Try to make practicing English fun and quick, look at stories with repeated language and role-play different parts together. For children who have already acquired spoken language -read, as much as possible, immerse the children in books at their level to support enriching their vocabulary and deepening their understanding of the language structure. Use a range of genres to enable children to allow them to gain a love for reading.