With schools closed due to COVID-19, to respond to increasing anxiety from parents who still need to choose a school and enrol their child(ren), Britannica International School, Shanghai, since March, has held three online Open Days, which have covered all Year Groups, and were positively received by many parents.
Following the feedback from previous Open Days to make the event more time-friendly for more oversea parents from different time zones to attend at a time convenient to them, the school has now scheduled another two virtual Open Days on April 23rd at 8:30 am and 7:30 pm, China time, respectively.
The event will cover all phases from EYFS all the way through to Secondary (age 2-18) and will feature the whole school leadership team who will give a thorough presentation to introduce their responsible phase. The event details can be found in the poster below.
---
How to Register
To register, please scan the QR code in the picture or hit the button below.
The access to the webinar will be shared when we receive your registration.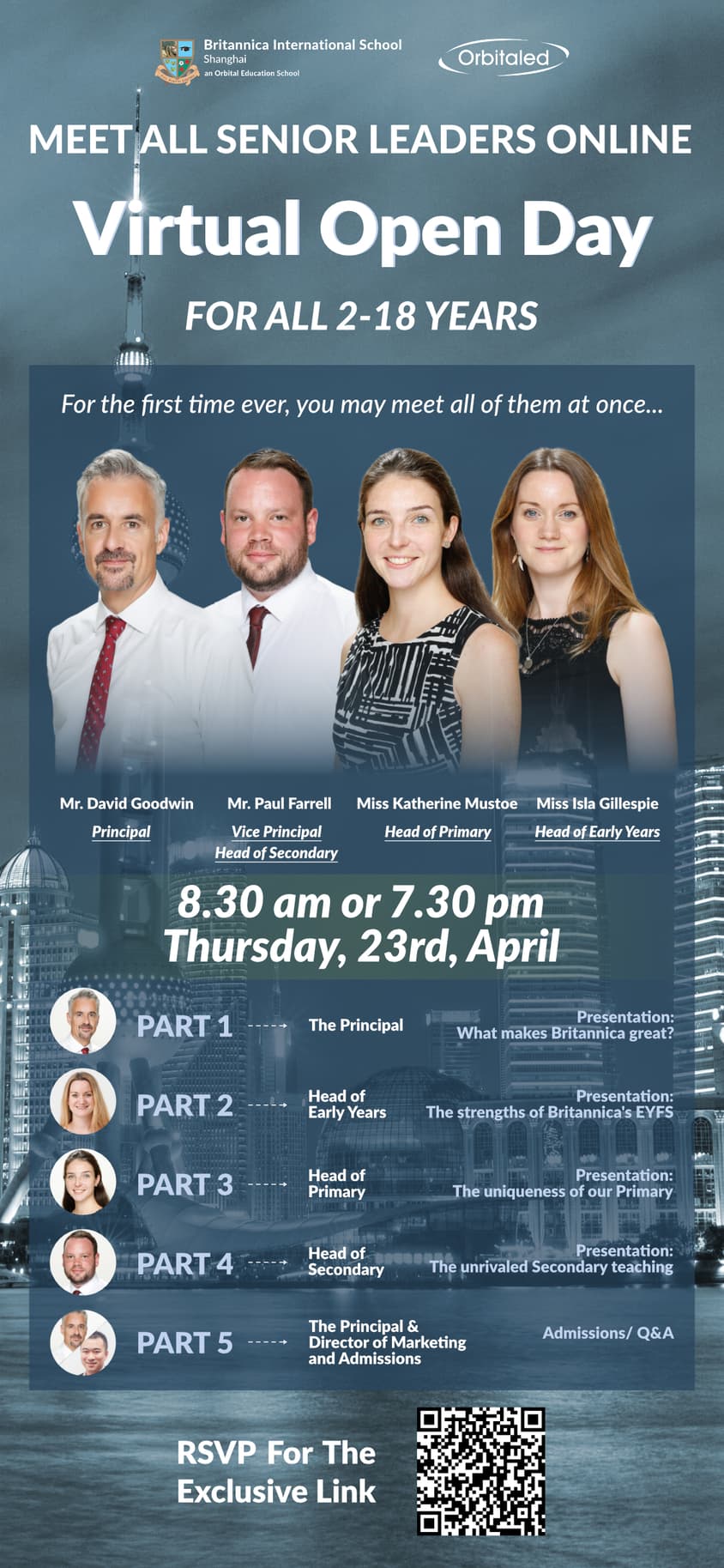 Reasons to Join
All parents are welcome to register and learn more about the best of British education Britannica promises to deliver in the safety and comfort of their home, as well as the up-to-date school response to the outbreak.
During this time, families will meet school Principal Mr. Goodwin online, an experienced educational leader with a passion for China, and discover more about the British curriculum that ensures the best for your child.
Heads of Phases from Early Years, Primary and Secondary as well as Director of Admissions will also join the webinar, therefore, you will be able to get your inquiries about the school well addressed through their thorough presentations and the Q&A session.
For parents who have registered for the Open Day, the school will be in contact soon and provide an exclusive access to a VIP online information pack for them to gain an idea of Britannica in advance.
Most importantly, parents who have signed up for the Open Day will be offered an exclusive opportunity to have an online interview with the Head of Phase. An Offer Letter will be issued to eligible candidates straight after that.