Kristine and Anna, siblings and Y3 and Y4 students at Britannica, recently won silver and bronze medals in the '2020 Shanghai Youth Ice Hockey Tournament'. Representing the Jing'an District, both students competed in several rounds of hard-fought battles against some of the most elite young players in the city.
Kristine and Anna first learned about ice hockey from another Britannica student, who shared how fun and exciting the sport was, and encouraged both sisters to try. When Kristine first touched the ice in a tutorial session, she was immediately drawn to the sport. Anna was a figure skater at the time, later converting to ice hockey because she saw how a team sport was more engaging as well as challenging, and 'joined the journey' with her sister.
It has been a happy yet arduous process for Kristine and Anna to hone their ice hockey skills, with many physical and mental obstacles to overcome. As goaltenders, they needed to be quick responders, be firm and decisive in taking actions. For children this young it required intensive and extensive training to build up their skills and confidence. With great determination and hard work, they achieved this amazing success after only a year and a half of practice.
As a team sport, to be good at ice hockey requires a strong team spirit. Both girls are great team players. At school, they have learned to help each other, and never leave a peer behind. When they first joined their ice hockey team, they immediately settled in, which helped them to grow fast as young stars on the ice.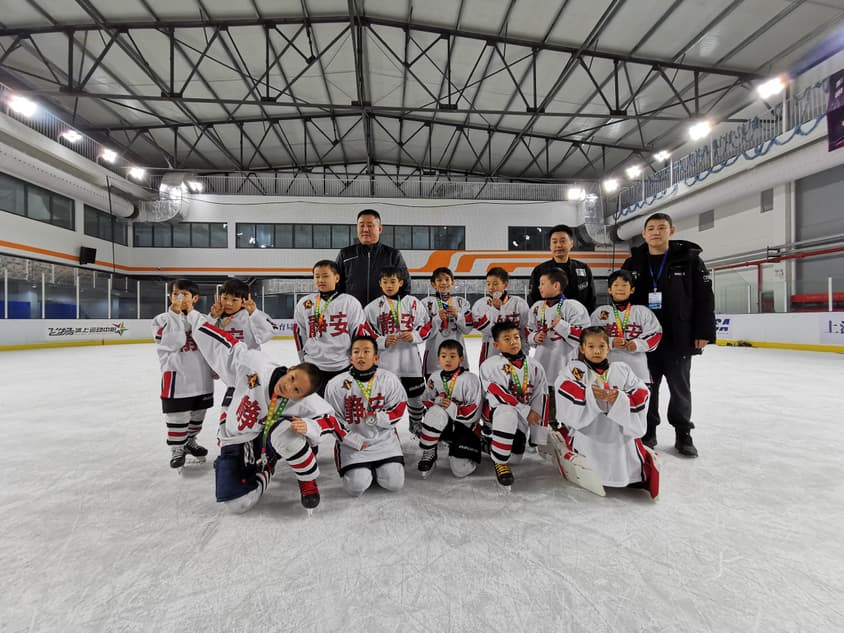 Audry, the mother of the two, told us Kristine and Anna's success was partly attributed to Britannica's teachers and school community. Britannica's teachers consistently encouraged the sisters to keep trying, make mistakes, and learn from them. The teachers also often encouraged both students to share with the rest of the class their exciting moments of playing ice hockey. These sharing activities gave the siblings a tremendous level of confidence to keep going, even when it could be challenging at times. Britannica's emphasis on teamwork was also an indispensable factor, according to Audry. 'Both of them are confident team players and are committed to excelling in ice hockey.'
The next step for both students is to exchange with youth teams in Beijing, where the next Winter Olympics will take place in 2022. 'We very much look forward to seeing the best teams in the world play in the Olympics!' Audry told us.
We congratulate Kristine and Anna, and hope for the best for their future pursuit in ice hockey.