1. Can you please briefly introduce yourself?
Ella: My name is Ella Storm, and I am from the North-West of England. I study Biology, Chemistry, Physics, and Psychology, eventually aiming to study Veterinary Medicine at a University in the UK. This is my second year at Britannica International School, Shanghai.
Raphael: My name is Raphael Bell, and I am from London, England. Before coming to Britannica, I spent 12 years studying abroad in Brazil. I study IT, Psychology and Business.

2. Can you give me an example of how Britannica helps you academically?
Ella: One example would be the Physics class, taught by Mr Farrell. I like his teaching as he's always very engaging. There are only two other students in the class. We always sit around a table and work closely together. I attend the class five times per week. My classes are usually a double period, which is 1 hour and 20 minutes. We don't get this level of attention elsewhere. Because of this very personalised way of learning, my Physics improves steadily, and I am increasingly confident.
Raphael: My favourite subject is Psychology. I am interested in it because it is classified as a type of science, and I have always enjoyed working with science. Understanding the human mind is fascinating to me.
And my Psychology teacher, Mr O'Brien, is very experienced. He's always trying to find a method of learning that would fit everyone in the class so that we can absorb the content. He teaches in a manner that is very easy for us to understand. For example, apart from textbooks, we also use our own Booklet because it's more simplified and customised. We continuously have discussions and debates, as Psychology is a subject that requires much debating so that we understand people's perspectives and ideas better. So yes, this personalised learning approach really helps me with the subjects I like.
Ella: Apart from teaching, the school is also very helpful in my university application process. For example, we regularly met and discussed my Personal Statement, and edited it back and forth. I am glad to say that I applied to 5 universities in the UK a few weeks ago. I'll be very happy if I get into either one of them, and I am confident about that.


3. How Britannica helps you gain confidence in a subject you initially struggled with, if you ever had one?
Ella: I would say Chemistry is the one I used to struggle the most with. Because for Chemistry, you don't just learn it, you have to understand it to be able to answer the questions and do well. So I initially struggled with understanding of certain concepts, such as Organic Chemistry that we learned last year, as there were so many different reactions and mechanisms, so it was initially difficult for me.
Ms Tsang, My Chemistry teacher, helps simplify the concepts for me, because she knows me well, and knows what language would suit me better. She tailors her teaching to how I'd like to be taught. For example, in our one-on-one sessions, she goes through PowerPoints, and we talk them through together. Whenever I face a difficulty, she would immediately re-explain the concept to me. Whereas in bigger classes like my previous school, it would be impossible to do that. So with her help, I have regained my confidence in Chemistry.
4. Outside the classrooms, how does Britannica help you grow and develop as a person?
Raphael: I think the ASAs (After-School Activities) do give us an opportunity to reinforce social skills, such as teamwork, communicating, sports, and many others. I am currently focused on working with groups, not only people you already know but also getting to socialise in general. I believe these skills are very relevant to universities. They'll definitely help us down the line.
Ella: As an example, we both do Rounders as an ASA. The age range is extensive as we've got people younger than us in the group. The teams are so mixed, and we get to know everyone. That's a great way to grow our interpersonal skills.
5. Can you tell us about your new Head Girl and Head Boy role?
Ella: So as Head Girl and Head Boy, we are responsible for managing the school's prefects. We plan and assign duties, head meetings, explain the rules and regulations and help other students whenever we can. We represent the school both internally and externally.
We are also honoured and excited to be selected to attend the next COBIS GSL World Catalyst, representing Britannica. This is an event where excellent student leaders from around the world join each other, discuss a wide range of essential leadership topics, and participate in challenging and exciting projects.
Raphael: One example of the student leadership is about, for example, the House Point system. It's a great system which partly represents the Britishness of the school, but not every student pays a lot of attention to the system. As Head Girl and Head Boy, we wanted to create opportunities to give the system 'more meaning'. So, we are planning on organising games and quizzes during KS3&4 Assemblies to engage the students, make things more light-hearted, and encourage everybody to participate.
Another example would be, that we encourage other students to actively take part in school events such as the Britannica's Got Talent, as we see so many of our students with various talents and skills, and it'd be great if they could 'show off their talents'.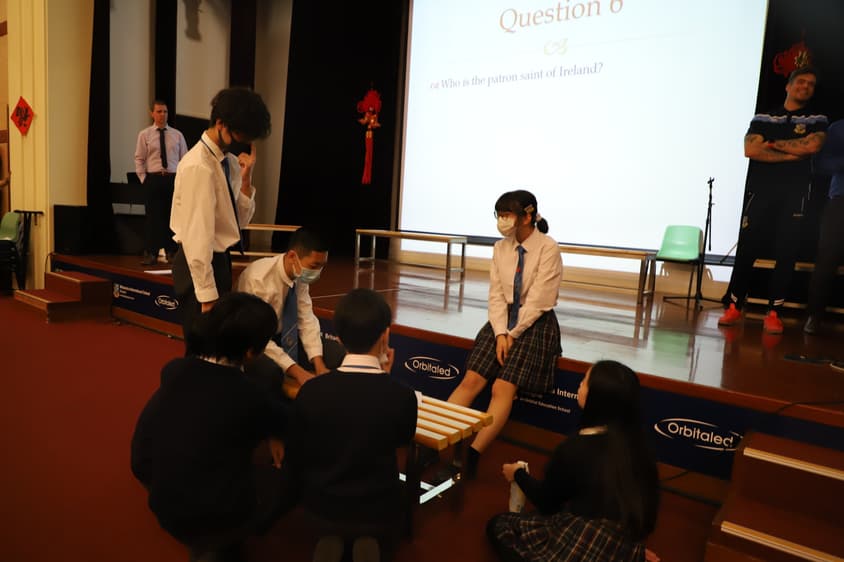 6. Your aims for this academic year and what do you wish to bring to Britannica as Head Girl / Head Boy.
Ella and Raphael: Our aim as a Head Boy/Head Girl is to be helpful, approachable and role models to the student cohort. For this academic year, we aim to achieve four A's in our chosen A-levels and improve our interpersonal skills as Head Boy/Head Girl. We hope to inspire and support students of all ages.