Healthy eating for healthy minds
Healthy eating
---
At Britannica International School, Shanghai we know how important it is to you that your child receives a healthy and balanced diet to help them thrive and grow. To support this, we have a healthy eating policy which ensures the meals and snacks your children receive are always nutritious and do not contain large quantities of fat or sugar. Lunches are freshly prepared daily, and fruit is always available. Our menus are changed on a weekly basis, and we always ensure that they are varied, with a variety of proteins and carbohydrates. Fresh salad and fruit are served with every meal. Juices and water are available for your children every day.
Ages and stages
---
We have separate dining areas for our Early Years (Pre-nursery, Nursery and Reception) students. Children are provided with crockery and utensils which are appropriate for their ages and stages of development.
East meets West
---
Each week, our menu offers a combination of Western/Asian meals to include chicken, beef, lamb, duck, fish, tuna, pizza, pasta, noodles, soup, rice, potatoes and vegetarian.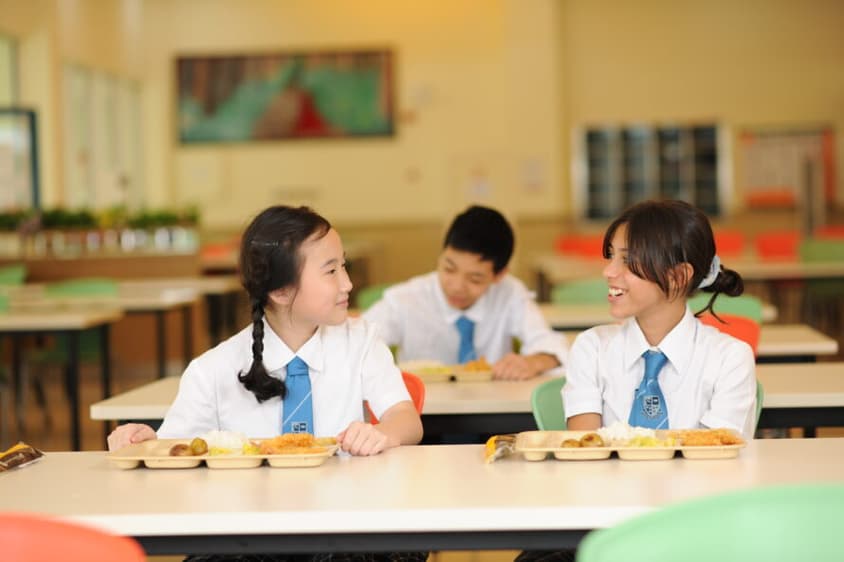 Hygiene
---
Our policy ensures that we give maximum attention to hygiene in both the preparation and serving of our food which is extended to our serving staff, teachers and pupils.
Allergies
---
If your child has any special dietary requirements, please let us know. We can provide you with information regarding the content of the food we serve that includes gluten free, dairy free, legume content food, fish and shellfish meals and egg products. If you need any further information please do not hesitate to contact us.